George is an ideal destination for any adventurous traveler. It is full of great locations and stunning landscapes. Established in 1811, George is ranked 6th in the oldest city in South Africa and falls between Port Elizabeth and Cape Town. It is located in the western part of the Cape Province of South Africa. George is the entrance to the grand garden route. It is blessed with abundant wildlife and stunning beaches as well as mountains, and the man built an old building that maintains its diverse beauty in all aspects. Below is the list of top 10 Places to visit in South Africa, George.
10 Best Places to Visit in George
When you are vacationing there, here is a list of the 10 best places to visit George for a heartfelt experience. To keep an eye!
Outdoor transport museum
Montegu pass
The Outnica Power Van
Victoria Bay
Seven pass drive
Outnica pass
Jungle beach
St. Mark's Cathedral
George Botanical Gardens
Red Berry Farm and Tea Garden
1. Outdoor Transport Museum
image Source
Earlier, The Outenica Transport Museum, a railway station, has a unique display of the country's history. The museum houses various houses offering a wide collection of different types of vintage steam locomotives, privately owned vintage cars, street motor vehicles and steam engine number plates. Beautiful vintage dining cars with pillars are also on display. Visiting this museum is like dating back to the years and when to see it in George.
Special Attraction: A narrow gauge, a coach of the Royal Train of 1947, influential GL Garrett, Emil Kessler, Paul Krueger's coach and private saloon.
Location: 2 Mission Rd, George Central, George, 6530, South Africa
Time: Monday – Friday 8:00 am – 4:30 pm and Saturday 8:00 am – 2:00 pm
must read: 10 top restaurants in George that offer the best African cuisine!
2. Montagu Pass
image Source
Opened in 1848, the Montagu Pass is the oldest untouched pass in South Africa. The 8-kilometer long pass has 126 turning corners and curves. This pass was constructed to replace the oldest Craddock Pass. The pass provides the traveler with a beautiful alternative route to avoid high-speed traffic and the hustle and bustle. From the point of convenience, people can see from the hill where the old Craddock Pass is located.
Special Attraction: The old toll house at Montagu Pass is a well-known heritage site and built local stone.
Location: Between George and Harold. Located in the Western Cape, the Montagu Pass connects George to Harold Village
3. Outnica Power Van
image Source
Rail trips on the Outeniqua Power Van are ideal for family walks and are one of the city's most popular attractions. The Outeniqua Power Van offers a unique, breathtaking eco-friendly experience on the Outenica Mountains. The ride offers a spectacular experience of the lives of birds and animals, including jungle, fynbos and protias, four passes, waterfalls and seven tunnels.
Special Attraction: Powerful, eco-friendly picnic is also accessible during the power van journey
Location: Mission St., Eastern Extension, George, 6529, South Africa
Time: 7:00 AM – 9:00 AM
Booking Cost: 150 rand for adults and 130 rand for children
Read the suggestion: 9 Paradisiacal beaches in George where you can go in and relax amidst the pristine scenery!
4. Victoria Bay
image Source
Victoria Bay is one of the smallest and most beautiful bays on the Garden Route. Victoria Bay is the smallest and most beautiful beige covered with rocks located on the Garden Route. Tranquility all around, Vic Bay is gorgeous and beautiful with a great view of the sea. Victoria Bay is a top-class surfing spot on the South Shore and many competitions are held here throughout the year. Lovely to go for a walk along the bay and to watch surfers or to swim through gentle waves. The convenience of water sports and water activities make this beach famous among the younger generation.
Special Attraction: National and district level surfing competitions.
Location: The Garden Route, Western Cape, South Africa is located on the Garden Route between George and Wilderness.
5. Seven Pass Drive
The drive to visit George is one of the coldest places to visit in winter and it is one of the most scenic mountain passes in South Africa. The Seven Pass Road, also known as George Road, is a historic and scenic area of ​​the road between George and Nigerna. The pass was built by Edam de Smidt and Thomas Bain. The stretch includes Kaimansagat Pass, Swartiware Pass, Hoogreakal Pass, Toove River Pass, Silver River Pass, Phantom Pass and Kartara Pass.
Special Attraction: Millwood, a gold-crowded town in the Outeniqua Mountains.
Location: Between George and Nysna, traveling to Western Cape Winter can be one of the most beautiful times of the year and the Seven Passes
Read the suggestion: 10 foreign wedding venues in George where you take your vows forever with a view!
---
Planning your vacation, but confused where to go? These travel stories help you find your best journey!
Real Travel Stories. Remains real. Easy tips to help you make the right choice.
---
6. Autiquiné Pass
image Source
The Outnica Pass is a mountain pass at an altitude of 800 meters above sea level. Outenikke Pass, N9 takes national roads through the Outenikka Mountains. Built in 1951, the pass serves as the bridge to Little Karu, the coastal town of George, and Oudtshoorn. It curves and narrows the corners with a 90 degree bend. The pass is a striking natural place and as you drive, you will cross many picturesque cities, bridges and fields.
Location: Western Cape, South Africa
7. Jungle Beach
image Source
Another beautiful beach in the George area is the afternoon. The soothing waters of the Indian Ocean and its waves are quite frequent in the jungle. Beautiful beauty and serene atmosphere of the beach. The beach attracts a large number of tourists from all over the world. Wilderness Beach is a great place to visit in St. George.
Special Attraction: Ideal for watching dolphins and whales.
Read the suggestion: The 7 most popular airports in South Africa that are promoting the nation's tourism industry
8. St. Mark's Cathedral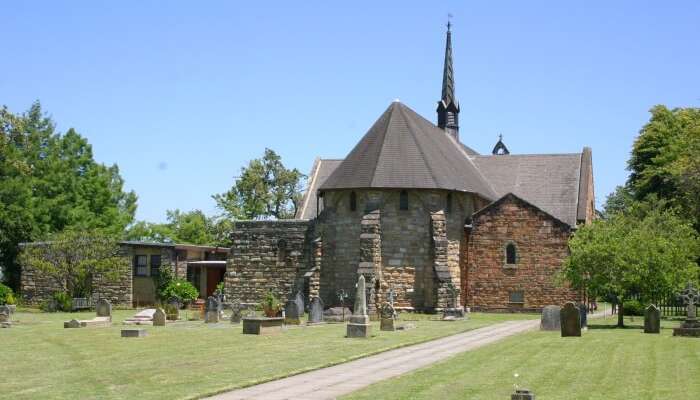 image Source
The Anglican Cathedral of St. Marcus is an attractive stone building designed by Sophia Gray following the Gothic revival style of architecture. The Cathedral is the seat of the Bishop of George. The church was consecrated on 7 December 1850. The magnificent architecture makes this church different from every angle. The cathedral is now a member of the International Community of the Cross of Nails.
Location: 59 Cathedral Street, George, 6529, South Africa
Time: Monday – Friday 10:00 am – 1:00 pm
9. George Botanical Gardens
image Source
Located at the top of Caledon Street, the George Botanical Garden is worth a visit for its value. The Garden Garden Route is the brainchild of the Botanical Society. It plays an important role in both conservation and study of the important floral state. Known as the photographer's paradise, the garden mainly focuses on plants and animals found in the region. This garden makes it a wonderful place for families to escape from nature somewhere. Definitely worth the trip for a walk, picnic or simply sitting on the bench.
Special Attraction: Tea Gardens, Botanical Library and Southern Cape Herbarium
Location: 49 Caldon Street, George 6529, South Africa
Time: 7:00 AM – 7:00 PM
Read the suggestion: Don't miss these food festivals in South Africa if you call yourself a foodie
10. Red Berry Farm and Tea Garden
image Source
Located in the center of the Garden Route, the Red Berry Farm is one of the best places to visit in Georgetown. The farm is also a cottage self-catering cottage located on a strawberry farm. It is visible in a lush green country, which is visible on the mountain of Outenike. The farm has a range of strawberry products and the Berry Bar and Red Shed Coffee is a special farm style coffee bar located inside the farm that serves drinks to guests. Many restaurants and hotels are available within 5 kilometers from the farm. A delightful family exists in the Red Berry Farm and Tea Plantation.
Special Attraction: Strawberry picking, pony rides, short train rides, bumper boats and maze.
Location: Geelhutboom Road, Blanco, George, 6530, South Africa
Time: Monday – Saturday 9:00 am – 4:00 pm
read ahead: 10 best South African dishes that will add a variety of delicious flavors to your next holiday
These are a wide number of tourist places located in George. And we believe that now you have no illusions as to how the best experience will be when holidaying in George! Therefore, be sure to visit George during your next trip to South Africa!
Frequently asked questions about places to visit in George
Q. What is George famous for?
a. Located in the Western Cape Province of South Africa, George is known for its majestic veneer, adventure options and scenic charm points. There are many places where travelers can visit Outeniqua Transport Museum, Montagu Pass, The Outeniqua Power Van, Victoria Bay, The Seven Passes Drive and many other places.
Q. Which are the best beaches to visit George?
a. These are some of the top beaches near George:
1. Harold's Bay Beach
2. Tergniet Beach
3. Sperbosch Beach
4. Cola Beach
5. Victoria Bay
Q. Where can one see George's nightlife?
a. If anyone wants to experience George's nightlife, these are the best places to visit:
1. Tarantino's Resto Bar
2. Q8 Lounge & Bar
3. Juice Cocktail Bar
4. Biltong Bar
5. Cactus
6. Bench Restaurant and Bar
7. Shenanigans Irish Pub
8. Zanzibar
Q. How can one reach the Kaymons waterfall?
a. Travelers can reach the waterfall with a canoe or rowing boat. Additionally, it will take only 10 minutes to reach the destination.
Q. Is George a suitable place for children?
a. Yes, Geroge is a great destination for children. There are various points of attraction where they can travel in this way:
1. Outdoor Transport Museum
2. George Botanical Gardens
3. Jungle National Park
4. Africa Approach Map
5. Old Toll House near Montagu
6. Red Berry Farm and Tea Garden
Q. How many days are ideal for George's visit?
a. 4-5 days is enough to enjoy George's journey. During this time, you can try various activities or visit the top attractions in George.
---
People also read:
Places to visit in Mozambique Places to visit in Pretoria
notes
notes