Israel is a land of contrasts, a long beautiful coastline with picturesque towns and cities, and on the other side are the desert and the dry Dead Sea. Go north and you will get to see the marvels of the sea of ​​Galilee and its historical cities, and at its southern end are the beautiful cities of Elliot City And the Red Sea. It is no wonder that all these beautiful destinations have many options for travelers. However, if you like the quiet privacy of a holiday home and the time to relax and enjoy it with family then a villa is what you want! In Villas in israel Are luxurious and well equipped with facilities to serve a gathering for your holiday.
10 beautiful Israel villas for your stay
We have a list of the best villas in Israel that you will find irresistible. So, which of these dreams would you like to live in during your journey?
1. Villa Tifferet – Spacious Holiday Home in Safed Ideal for Families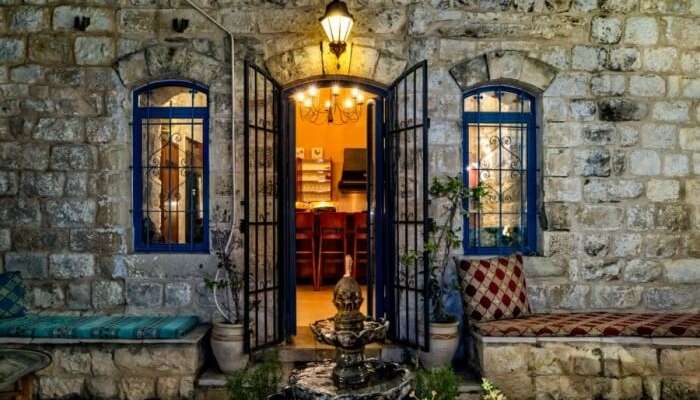 image Source
Located in the idyllic resort town of Safed, Villa Tiffet is one of the best holiday villas in Israel. The villa is a large house inspired by Moroccan architecture and interiors and spans 3,800 sqft. It has 4 bedrooms, sleeping 13 people including four children in four bunk beds! The main attraction of the house is the roof terrace which offers excellent views of the city, and beyond, it is ideal for capturing the sunset with a cup of tea. The large dining room with a fully equipped kitchen is perfect for large family dinners, where the whole family can bond over a home meal.
place: Tate Vav 72, Safed, Israel, Israel
Face value: INR 30,000 / –
Website | TripAdvisor Reviews
must read: 10 Perfect Wedding Venues In Israel For Your Happiness!
2. Villa Riviera Eilat – Luxury villa in Elliot, to enjoy the scenery and relax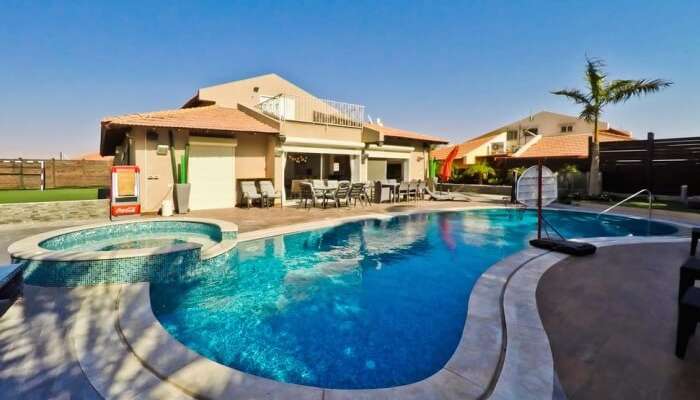 image Source
Eilat is one of Israel's favorite holiday destinations; Travelers love easy access to the Eilat Mountains' desert and breathtaking beauty, as well as proximity to the Red Sea beaches. A great place to enjoy this beautiful city is from Villa Riviera, a luxurious luxury villa that is perfect for families to stay together. It is one of the new villas in Israel which has a pool within the complex. The villa has five bedrooms, a large play area for children, a jacuzzi to relax and a hammam, as well as a home cinema theater for entertainment. The outdoor area with pool and beautifully manicured gardens are ideal for sitting with friends with a book or gossiping!
place: Mishol Arnavet 5, Elliot, 8852005, Israel
Face value: INR 73,000
Website | TripAdvisor Reviews
3. Villa Pukhraj – Modern villa with barbecue table and swimming pool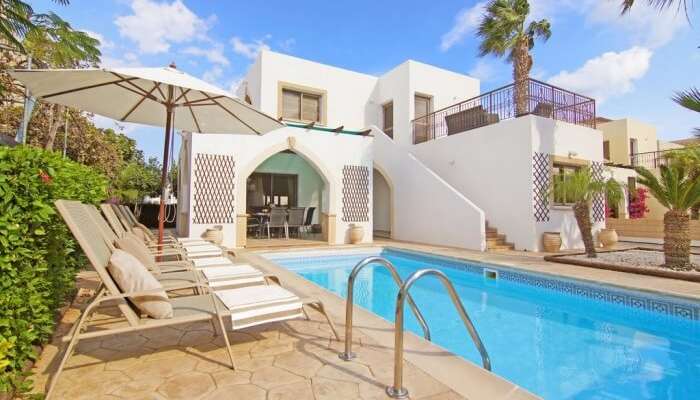 image Source
Villa Pukhraj of Eilat is ideal for Fun Barbecue Nights, Crazy Game Nights and Relaxed Pool Days. The two-story modern villa is a symbol of luxury and full of amenities! It features a high-end barbeque table, a well-maintained swimming pool, games for children including an Xbox console and a luxurious kitchen. The villa is one of the best villas in Israel with a pool and is the perfect place to organize a pool party! Its location is also convenient and close to all the attractions of the city. The villa has three bedrooms, and beds that can seat 14 people, which means you can have a big party at Elliot's for the family!
place: Mishol Azov 6, Ilat, Israel
Face value: INR 1, 81,000
TripAdvisor Reviews
Read the suggestion: 10 Hip and Historic Hostels in Israel Perfect for Exploring Their Cities
4. Villa Alice – Contemporary Luxury Villa in Caesarea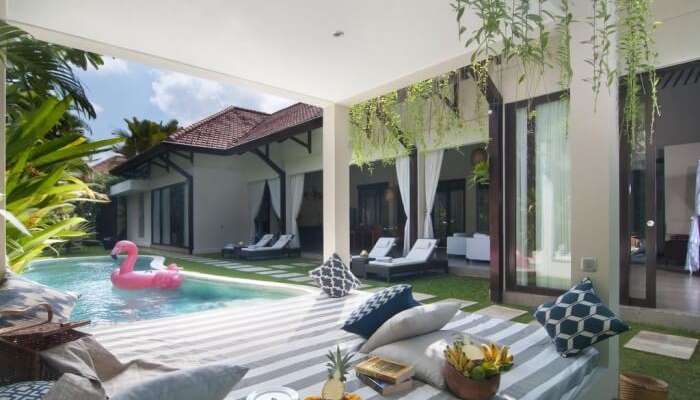 image Source
Villa Ellis is the perfect place to stay away from home in Caesarea on vacation. The moment you see the villa, you will realize why it is among the top holiday villas in Israel. The villa's design is modern and geometrically chic, and its interiors are attractively decorated. The community around the villa is very upscale, and it is a short walk from the Caesarea 18-hole golf course. The villa requires a minimum 3-night stay, but once you spend a day at Villa Ellis you will never want to leave it! The house has four bedrooms that can sleep up to 10 people and has a huge swimming pool.
place: Hakovim St. 7, Keyseria, Israel
Face value: INR 3,10,000 / –
Website | TripAdvisor Reviews
5. Inner Circle Rosh Pina Villa – Rosh Pina Rustic Chic Villas in the countryside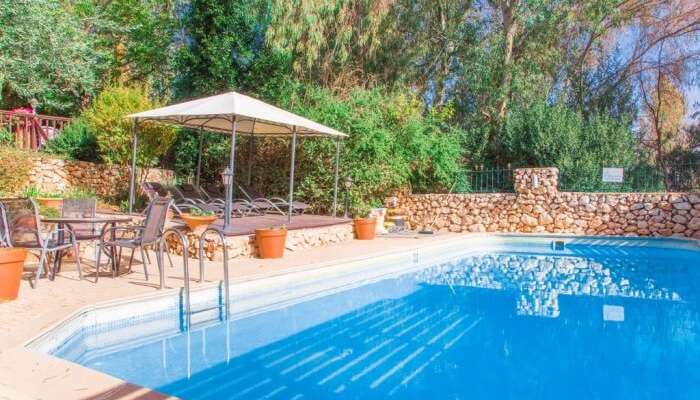 image Source
The Inner Circle villagers live in the countryside! Rosh Pina is a quaint town in Upper Galilee and nearby are the beautiful forests of ancient Tel Hazor and Biriya. The Inner Circle Villas are actually two villas in the same complex that accommodate nine people in large villas and six people in small ones. Take them together and enjoy a rustic yet luxurious holiday in these beautiful wooden villas reminiscent of a chalet in Switzerland! The best feature of the villa is the garden of olive trees which surrounds the villa and gives it a beautiful environment throughout the year.
place: David Shuv St. 20, Rosh Pina, Israel
Face value: INR 84,800 / –
Website | TripAdvisor Reviews
Read the suggestion: 10 things to do in Israel: know why on every bucket list
---
Planning your vacation, but confused where to go? These travel stories help you find your best journey!
Real Travel Stories. Remains real. Easy tips to help you make the right choice.
---
6. Villa Yotam – Affordable and stylish luxury villas in Elliot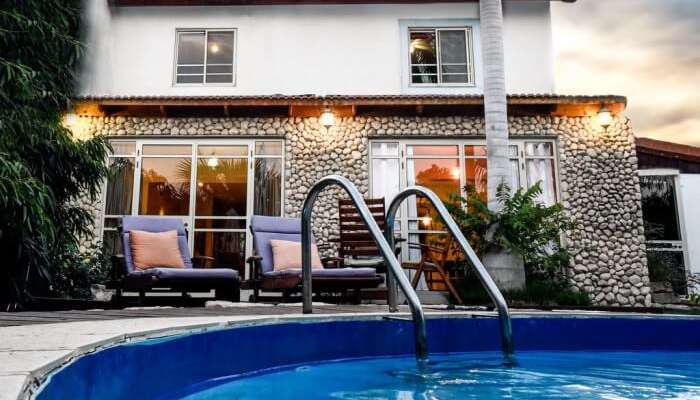 image Source
Eilat is a famous resort town with the best collection of luxury villas in Israel. Thus it can be difficult to find the best, but Villa Yotam can easily be counted as one of the best! The villa with its pebble-exterior is a beautiful two-story house with three bedrooms suitable for two families of 10 people. It has modern interiors including a kitchen, where you can cook meals and enjoy some relaxing time with the family. The swimming pool is within the villa compound and also has a security fence that is suitable for children. Villa Yatom is one of the best places in Eilat.
place: Mishol Defdu 1, Ilat, 8824366, Israel
Face value: INR 17,500 / –
Website | TripAdvisor Reviews
7. Ashkol Sea View Villa – Stunning seaside villa at the top of Carmel Mountain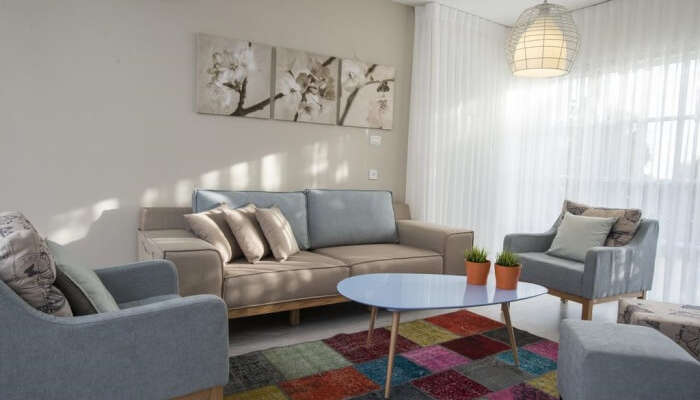 image Source
Haifa is one of the most beautiful coastal cities in Israel and is known for its magnificent Bahai Gardens and Shrine of the Baba. A popular destination for tourists from the country and the world, it is also home to the Ishkol Sea View Villa. The villa is situated just above Mount Carmel with views of the Mediterranean waters. The villa has five bedrooms spread over three levels and accommodates 14 people. It has a beautiful garden, balcony, and if you want to stay with more people, the complex also has apartments that can cater to a big party.
place: Enzo Sereni St 5, Haifa, Israel
Face value: INR 53,000 / –
Website | TripAdvisor Reviews
Read the suggestion: 10 Best Places to Visit in Israel for an Extended Tour of the Holy Land
8. Villa Edama – Environmentally friendly villa in the middle of a desert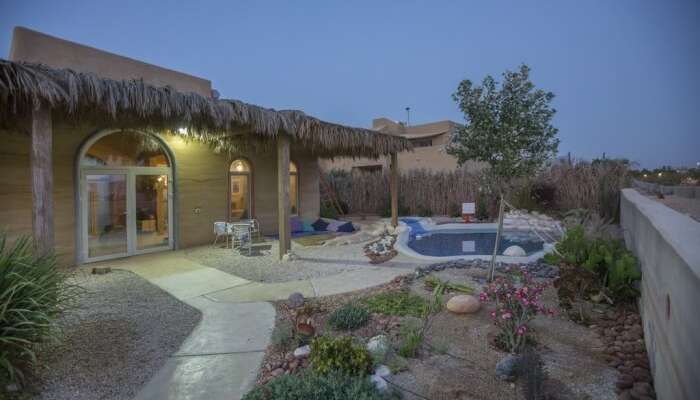 image Source
Villa Edama is undoubtedly one of the best villas in Israel and for many reasons! The most important architectural style is, Villa Ramat is located in the Negev desert region and uses a technique of packing desert sand to create 50 cm walls that keep homes cool. This building style is similar to Morocco's architecture and heralded as ecologically friendly and sustainable. But, at the same time, at Villa Edama, you will not compromise on aesthetic value. The villa is beautifully decorated and has three bedrooms that can accommodate twelve people. This is the perfect place to stay on your Desert Adventure Holiday!
place: 441, Midresh Ben-Gurion, 84990, Israel
Face value: INR 53,000 / –
Website | TripAdvisor Reviews
9. Villa Gilead – Affordable villas near the sea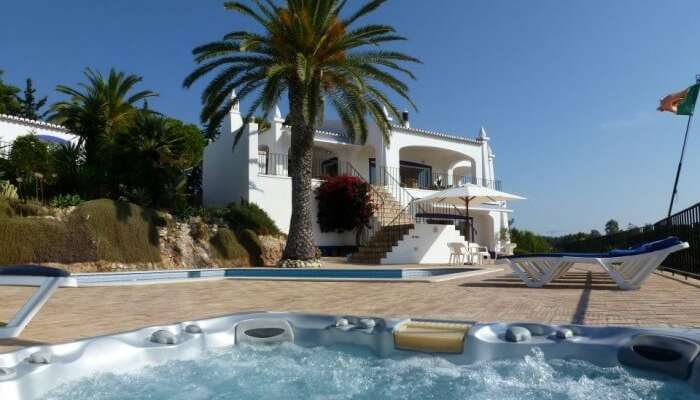 image Source
If you are worried about spending a fortune on a villa, but still yearn for a private holiday, Villa Gilead is for you. It is one of the best affordable villas in Israel and is suitable for a family of seven. The villa has two bedrooms, and its specialty is the stone courtyard with stone garden. The kitchen is well equipped and perfect for the whole family to contribute to the hearty food and enjoy the view over the Mediterranean Sea. The entire house is well lit and is perfect for spending weekends in the countryside.
place: Yig'al Alon St 43, Zihron Ya'akov, Israel
Face value: INR 36,000 / –
TripAdvisor Reviews
Read the suggestion: Honeymoon in Israel: the beginning of a lifetime
10. Ahujat Elisheva – Villa of royal proportions with chefs on call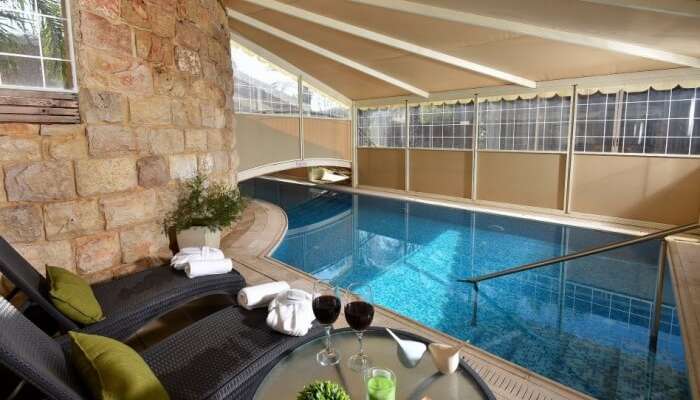 image Source
Ahuzat Elisheva is the last of the luxury villas in Israel. The villa is built as a palace complex and is a spacious house in the middle of Amka, overlooking the Galilean valley filled with trees in the Olka garden. The villa has seven bedrooms and accommodates 25 people, making it the perfect place to celebrate long birthday parties, wedding anniversaries and more. Every nook and corner has attention to detail, and the best thing about the villa is that you can have the option of cooking a professional meal if you choose. This would be the best villa holiday you could ask for!
place: Amka, 2525300, Israel
Face value: INR 1, 28,000 / –
Website | TripAdvisor Reviews
read ahead: 15 Scenic Israel Beaches Are The Best Of The Mediterranean Sea
Love the cozy and luxurious appeal of these villas in Israel? We know that you do! Now, why don't you plan a trip and go out with family or friends to get together in these amazing places for the weekend immediately! Better yet, you can seek help from the experts sitting at TravelTriangle, who will whip up a terrific sausage trip for you and your loved ones.
---
notes
notes