There is something inherently beautiful about a pre-wedding shoot. The excitement of getting married, the beginning of a new life, lots of undercurrent emotions, and yes of course, love – all these are beautifully captured during such shoots creating memories that would perhaps last a lifetime for the couple. But for a photo shoot to be special, its backdrop has to be amazing and reflective of the mood and theme, one is trying to highlight. Check out some of the best places for pre wedding shoot in Delhi.
17 Best Places For Pre-Wedding Shoot In Delhi
Fortunately, if you're living in Delhi, you're in luck, for we have listed down the best locations for a pre wedding shoot in Delhi. We have also mentioned the pre wedding video shoot cost in Delhi to make it easier for you.
Astonishing Humayun's Tomb
Lush Lodhi Garden
Royal Neemrana Fort
Beautiful Hauz Khas Fort & Lake
Astounding Lodhi Art District
Awesome Garden Of Five Senses
Breathtaking Okhla Bird Sanctuary
Terrific Tikli Bottom
Remarkable "The Perfect Location" Faridabad
Historical Connaught Place
Impressive Agrasen Ki Baoli
Spectacular Rail Museum
Striking India Gate
Lavish "The Roseate"
Luxurious ITC Grand Bharat Hotel
Lavish Photo Paradise
Fantastic Champa Gali
1. Humayun's Tomb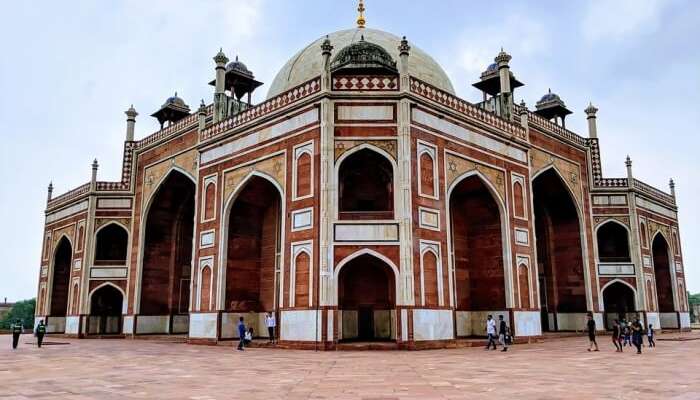 Image Source
One of the best pre wedding shoot locations in Delhi, Humayun's Tomb is a spectacular option for couples to document and capture their new life in a surreal Mughal backdrop. The lush green gardens, marble structures, water fountains, and red stones will not only add a fine dose of "era gone by" feel to your photo shoot – but will also give you a stunning visual backdrop for your memories.
Tip: Since this monument opens early for public (6am), it is recommended that you schedule your shoot early morning for better light and less crowd.
Location: Mathura Road, Opposite Dargah Nizamuddin, New Delhi, Delhi 110013
Entry Fee: INR 30 (Indians) & INR 500 (foreigners)
Photography Charges: Nil ('25 for video filming)
Timings: 6am to 6pm everyday
Must Read: 10 Best Places For Pre-Wedding Shoot In India That Will Make Your Pictures Go Wow!
2. Lodhi Garden
Image Source
Lodhi Gardens has been one of the best places for pre wedding shoot in Delhi since a long time primarily because of its surreal blend of nature, architecture, and open spaces. Spread across 90 acres, the gardens are dotted with with various structures and ruins bearing the hallmark of 15th-century architecture. There is also an ancient bridge called Athpula that makes for an impressive choice for pictures. All in all, the gardens are one of the best places for photoshoot in Delhi NCR and deliver a perfect romantic backdrop.
Tip: It is recommended that you schedule your shoot early in the morning or late in the evening since the light during this time is just right and there aren't a lot of people in the vicinity too.
Location: Lodhi Rd, Lodhi Gardens, Lodhi Estate, New Delhi, Delhi 110003
Entry fee: Nil
Timings: 6:00am – 7:30pm everyday
Suggested Read: Best Wedding Destinations In The World, Hand-Picked Especially For You!
3. Neemrana Fort
Image Source
A favorite destination for pre wedding shoot photographers in Delhi, Neemrana Fort Palace is a beautiful choice for those looking forward to amazing places near Delhi and those who want Rajput splendor in their photo shoot. This heritage hotel has seven different wings which are spread across 14 layers and are connected to one hill thus making it one of the ideal pre-wedding location in Delhi for a photo shoot. Places for photography include well maintained lawns, swimming pools and water bodies, hanging gardens, and an overall backdrop of splendid architecture.
Tip: For organizing a pre wedding shoot, one can contact the hotel staff for the same.
Location: 122nd Milestone, Delhi-Jaipur Highway, Alwar, Neemrana, Rajasthan 301705
Entry Fee: INR 500
Timings: 09:00 am – 04:00 pm everyday
Suggested Read: Pre-Wedding Shoot In Jaipur: 8 Instagram-Worthy Places You Can't Miss
4. Hauz Khas Fort & Lake
Image Source
One of the most happening places in Delhi, Hauz Khas is home to some of the best pubs, clubs, and restro-bars. But behind its current modern avatar lies the Hauz Khas Complex which is a prewedding location in Delhi. This complex houses the remnants of Allauddin Khilji's Delhi Sultanate and has medieval period houses, a tomb, an Islamic seminary, and a water tank tank which has now been revived and looks like a mini lake. Additionally, one can also go to the Deer Park situated behind the complex for a more natural photography experience.
Tip: One of the best photoshoot places in Delhi, the perfect time to schedule your Hauz Khas pre-wedding shoot Fort is one hour after sunrise and one hour before sunrise since the lighting during this time is perfect.
Location: Hauz Khas Village, Deer Park, Hauz Khas, New Delhi, Delhi 110016
Entry Fee: Nil
Timings: 10:30 am to 6 pm everyday
Suggested Read: 14 Fun Things To Do In Delhi On A 2021 Trip To The Capital City
---
5. Lodhi Art District
Image Source
Located between Khanna Market and Meherchand Market, these are colorful walls that have been painted by more than 28+ street artists from all over India and around the world between December 2015 and March 2016. It is now transformed into an open air art gallery adding a contemporary charm to Lodhi Colony that is open to all and is indeed one of the fun places in Delhi. Needless to say, it is a perfect place for a pre wedding photo shoot in Delhi for couples who want to capture the contemporary charm of Delhi making it at one of the best pre-wedding locations in Delhi.
Tip: This is a public property and one can schedule their shoots early in the morning and late in the evening since traffic and people during this time are at a minimum.
Location: Located between Khanna Market and Meherchand Market
Entry: Nil
Timings: 24 hours
Suggested Read: 35 Best Resorts Near Delhi To Relax, Rejuvenate, And Unwind on Weekend In 2021
6. Garden Of Five Senses
Image Source
In search of one of the best places for a pre-wedding photoshoot in Delhi? Look no further. Designed to help people unwind, de-stress, and be at peace with their surroundings, the Garden of Five Senses located in Mehrauli is one of the most scenic places for a nature pre wedding photo shoot. This 20 acre space has many elements for the camera lens to flirt with. The most prominent of these include an arrangement of majestic rocks, some of which are strewn across the ground while the others stand facing the sky. An amazing setting for all kinds of photo shoots, this one offers a surreal treat to both photographers and couples.
Tip: A late morning shoot in the winters and a late evening one in the summers is recommended.
Location: Near Saket Metro Station, Mehrauli-Badarpur Road, Said Ul Ajaib, New Delhi, Delhi 110030
Entry: INR 30
Photo shoot with still camera (4 hours): INR 3971 (including taxes)
Timings: 9 am to 6 pm everyday (winters) & 9 am to 7 pm everyday (summers)
Suggested Read: From Royal To Offbeat, Here Are 15 Best Wedding Destinations in India To Say "I Do" In Style!
7. Okhla Bird Sanctuary
Image Source
One of the most beautiful places for a pre wedding shoot in Delhi, the Okhla Bird Sanctuary is perfect for couples who love nature. Situated in Noida, the bird sanctuary is home to over 302 bird species and is an ultimate location for photographers thanks to its natural light and large spaces that also makes it one of the offbeat places pre-wedding photoshoot in Delhi.
Tip: The sanctuary opens at 7 am in the morning and that is when you should schedule your shoot for everything is fresh and glistening at this time. Also be prepared to cover a lot of distance on foot since vehicles aren't allowed inside the sanctuary.
Location: Noida Plaza, N Block, Pocket K, Sector 95, Noida, Uttar Pradesh 201301
Entry Fee Per Person (Per Day): INR 30 & INR 350 (foreigner)
Photography charges: Contact administration
Suggested Read: 15 Romantic Wedding Venues In India
8. Tikli Bottom
This is an English cottage that is situated in a large farm land and is run as a private retreat. With its huge open lawns, swimming pools, and a picturesque picnic like surroundings, Tikli Bottom is one of the best pre wedding photoshoot locations in Delhi NCR especially for couples who want a romantic nature photo shoot experience.
Tip: Situated about an hour away from Gurgaon
Location: Gairatpur Bas Village, Tikli, Gurugram, Haryana 122101
Entry: Contact administration
Timings: 24 hours
Suggested Read: 15 Extraordinary Destinations Around Delhi That You Ought To Check Out In 2021
9. The Perfect Location, Faridabad
Image Source
Just like its name, the Perfect Location in Delhi is situated nearby Faridabad is an ideal pre wedding shoot studio in Delhi. It has both manmade and natural backgrounds ranging from Greece like backdrop to a picnic spot to a horse ranch among many others. Couples can use props like an old vintage car or a campfire to add that extra flavor to their shoot. The place is equipped with proper dressing rooms too. It is one of the finest pre-wedding studios in Delhi.
Tip: There is something for everyone at Perfect Location. Its versatility is its biggest USP thus making it an ideal location for a pre wedding photoshoot in and around Delhi.
Location: 13/2, Mathura Road, Sector 27C, Faridabad, Haryana 121003
Packages for private shoots start from: INR 15000
Timings: 10am to 6pm everyday
Suggested Read: Delhi Has A 'Museum Of Antiquities' To Gift You This New Year!
10. Connaught Place
Image Source
Connaught Place has long been a favourite prewedding location in Delhi that has also been associated with the regal charm of Delhi as it is one of the best tourist attractions in Delhi. Its white walls and huge pillars have an unmistakable nostalgic charm that can work very well for couples who wish to incorporate a bit of old world magic in their photos. Dotted with many restaurants, pubs, markets, and also ruins, this is one destination that beautifully blends the old charm with modern love.
Tip: Plan the photo shoot early in the morning because the crowd at this point is at a minimum.
Location: Connaught Place, New Delhi
Entry Fee: Nil
Timings: Open 24 hours
Suggested Read: 25 Most Romantic Wedding Venues Across The World
11. Agrasen Ki Baoli
Image Source
Located in the heart of Delhi, Agrasen ki Baoli is a heritage site which gives an edge to the romantic pre-wedding photography in Delhi. This is one of the oldest stepwell where the couples can get a dramatic photoshoot because of its dark and spooky yet beautiful surroundings.
Location: Hailey Road, Near Diwanchand Imaging Centre, K G Marg, New Delhi, Delhi 110001
Entry Fee: Nil
Timings: 9AM – 5PM
Suggested Read: 32 Best Romantic Places In Delhi And Its Vicinity That All Couples Must-Visit In 2021!
12. Rail Museum
Image Source
Rail Museum is a refreshing place from the cliched heritage sites and offers a unique backdrop for a romantic pre-wedding shoot. The trains and locomotives statued inside the museum will give a royal look to your special moments with your partner and also make it appear quite rustic. It is amongst the best for pre wedding shoot places in Delhi. 
Location: Chanakyapuri, New Delhi, Delhi 110021
Entry Fee: INR 50
Charges For Photoshoot And Videography: INR 11, 800 for 4 hours (Photography), INR 59,000 for 4 hours
Timings: 10 AM – 5 PM
13. India Gate
Image Source
Get yourself clicked with your partner in front of the majestic triumph of the Arch. India Gate is not just a favorite picnic spot but also in recent years it has become one of the best photoshoot locations in Delhi. With the lush-green lawns and the monument at the backdrop it makes a great frame to capture the love.
Location: Rajpath, India Gate, New Delhi, Delhi 110001
Entry Fee: NIL
Timings: Open for 24 hours
Suggested Read: 60 Most Romantic Honeymoon Destinations In India – 2021 Guide
14. The Roseate
Image Source
Resting between the borders of Delhi and Gurgaon, the Roseate hotel is one of a kind place for pre-wedding shoot in Delhi locations. The place is adorned with huge water bodies, lavish and beautiful lawns, majestic architecture and pristine outdoor views which will be a perfect background to capture the beauty of your special day.
Location: National Highway 8, D Block, Samalka, New Delhi, Delhi 110037
Charges for Photography: INR 75,000 for 6 hours a day
15. ITC Grand Bharat Hotel
Image Source
Want a touch of royalty in your pre-wedding shoot? ITC Grand Bharat is the one the best locations to go for a pre-wedding photoshoot. Its grandeur and majestic architecture is enough to add that richness and royalty to the photoshoot. It might not be a very budget-friendly option but indeed it is worth all the expense.
Location: P.O. Hasanpur Tauru, Mewat District, Gurugram, Haryana 122105
Charges For Photography: INR 75,000 per day (INR 50,000 advance payment)
Suggested Read: 14 Most Romantic Places To Visit In April In India For Honeymoon In 2021
16. Photo Paradise
Image Source
If you want a colorful shoot and are bored out of the typical monuments and mountains shoot, them Photo Paradise will be perfect for you as it is the most famous destinations for pre-weddings shoots in Delhi. All you need to do is book an appointment at this, tell them how you want your pre-wedding shoot to be and you are good to go! This studio is also one of the most famous pre-wedding studios in Delhi!
Location: Photo Paradise, Qutabgarh (38.94 km) 110039 New Delhi
17. Champa Gali
Image Courtesy:TheCultureGully
Perfect pictures with a backdrop full of lights and colors! Your pre-wedding shoot at Champa Gali will be all about both. You must visit Champa Gali in the evening as the Fairy light adds to the beauty of this spot and your pictures will depict your own fairytale! You can also get a video made here for your pre-wedding video. And, if you are wondering what is pre-wedding video shoot cost in Delhi, then you will be glad to know that a video shoot at Champa Gali will be quite easy on your pockets!
Location: Westend Marg, Said ul ajaib, Saket
Further Read: 10 Picture-Perfect Pre-Wedding Photoshoot Locations In Bangalore In 2021!
After planning a perfect pre-wedding shoot, it is time for you to plan an even better honeymoon – and we can help you with it. Check out our value for money honeymoon or simply raise a request and we will get back to you with free quotes.
Frequently Asked Questions About Pre-Wedding Shoot Locations In Delhi
Q. Which are the best free pre wedding shoot places in Delhi?
A. Places like Hauz Khas Fort and Lodhi Art District are some of top places for a free pre wedding shoot as there is entry fee or cost for using the location.
Q. Can one get a pre-wedding shoot done at Rail Museum Delhi?
A. The National Rail Museum which is one of the best museums in Delhi welcomes couples for their pre-wedding shoot with open arms. From using its antique trains to the rural-like ambience, you can easily get as many shots as you want here as per your style.
Q. How much does a pre-wedding shoot cost?
A. The average pre-wedding shoot typically costs around Rs. 45,000 but for some cases, the photoshoot may even cost in lakhs!
Q. Is photography allowed in Aga Khan Palace?
A. Yes. Photography is allowed inside the premise of the palace. You may take photographs in and out of the palace however only substantial part is open (ground floor) for visitors.
Q. Is the pre-wedding shoot necessary?
A. Though pre-wedding shoots have become a necessity for most, a lot of couples have started debating on whether or not they should have one.
Q. How long do pre-wedding pictures take?
A. A professional pre-wedding photoshoot can take anywhere between 45 minutes to a couple of hours. It entirely depends on the theme, specifications, and requirements of the clients.
Q. Why people do a pre-wedding shoot?
A. Pre-wedding shoots are for those who want good pictures of togetherness. Pre-wedding photography allows both partners to get to know each other better. You are free to pose or not to pose.
Q. When is a pre-wedding photoshoot done?
A. A pre-wedding photoshoot is usually done three to six months before the wedding day.
Q. What do you wear to a pre-wedding shoot?

A. You should wear colors that bring out your best features and compliment your looks. Also, dress according to the location where you'll be shooting so that you can stand out against in the backdrop that you have chosen. For instance, light pastels like pink, lime, turquoise do well against natural backdrops, while white looks stunning before sandstone monuments and heritage sites.
Q. What is necessary for great pre-wedding photos?

A. The most important thing is the lighting. Make sure you shoot during the golden hours, that is, either at 7 AM in the morning or around 6 PM in the evening. Wear colors that are a contrast against the backdrop you have chosen. Try to shoot in as natural a surrounding as possible.
People also read:
Pre wedding shoot in Pune Pre wedding shoot in Mumbai Best places for pre wedding shoot in India
Comments
comments